Dentist in Andover, MA
All our professionals at Andover Dental Group, Dr. Brian E. Murphy - Andover maintain the highest levels of accreditation and pursue ongoing education to stay abreast of the latest trends in dentistry.
Dr. Brian E. Murphy : Dr. Murphy is originally from California and received a Bachelor's degree in Biology from University of California, Irvine. He received his DMD degree from Boston University School of Graduate Dentistry. Dr. Murphy then did an 8 year residency in the Navy/Marine Corps, being stationed at Newport, RI; Subase New London, CT (2 tours); Camp Lejeune, NC; and Okinawa, Japan. Dr. Murphy is also a member of the ADA, Massachusetts Dental Society, and has a special interest in laser dentistry, maintaining memberships in World Clinical Laser Institute and the Academy of Laser Dentistry. Dr. Murphy has practiced in Andover since 2000.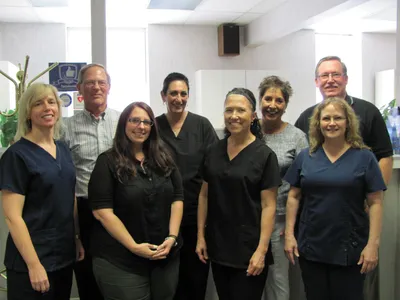 Amber: Amber is a dental hygienist who joined our practice in May 2021; Amber has been a great addition to our practice.
Diane (Di ): Di is a dental hygienist who has been with our practice since 2012. She has an associate's degree in science, and graduated from Forsyth School for Dental Hygienists in 1985. Di has over 20 years experience in the field of dentistry with most of that service in the Andover area.
Vivian : Vivian has been assisting Dr. Murphy since 2001. Both are trained in all aspects of dentistry and are well qualified to answer any technical questions for our patients.
Carole and Heidi : Carole and Heidi are our receptionists, Carole has been with our office since 1992, and Heidi joined our practice in 2005. Both are well trained and experienced in dealing with any appointment, insurance and payment issues.
Our entire staff undergoes yearly training in CPR, infection control, OSHA compliance, and HIPAA regulations.