Posts for: January, 2021
By Browell & Murphy
January 15, 2021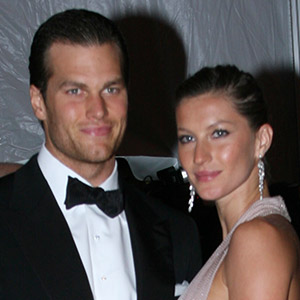 Love at first sight—it's an endearing notion found in movies and novels, but perhaps we're a little skeptical about it happening in real life. Then again, maybe it does once in a blue moon.  According to supermodel Gisele Bündchen, something definitely happened the first time she met pro quarterback Tom Brady in 2006. And it all began when he smiled.
"The moment I saw him, he smiled and I was like, 'That is the most beautiful, charismatic smile I've ever seen!'" Bündchen said in an article for Vogue magazine. That was all it took. After a three-year romance, they married in 2009 and have been happily so ever since.
Both Brady and Bündchen have great smiles. But they also know even the most naturally attractive smile occasionally needs a little help. Here are three things our happy couple have done to keep their smiles beautiful—and you could do the same.
Teeth whitening. Bündchen is a big proponent of brightening your smile, even endorsing a line of whitening products at one point. And for good reason: This relatively inexpensive and non-invasive procedure can turn a dull, lackluster smile into a dazzling head-turner. A professional whitening can give you the safest, longest-lasting results. We can also fine-tune the whitening solution to give you just the level of brightness you want.
Teeth straightening. When Bündchen noticed one of her teeth out of normal alignment, she underwent orthodontic treatment to straighten her smile. Rather than traditional braces, she opted for clear aligners, removable trays made of translucent plastic. Effective on many types of orthodontic problems, clear aligners can straighten teeth while hardly being noticed by anyone else.
Smile repair. Brady is a frequent client of cosmetic dentistry, sometimes due to his day job. During 2015's Super Bowl XLIX against the Seattle Seahawks, Brady chipped a tooth, ironically from "head-butting" his Patriots teammate Brandon LaFell after the latter caught a touchdown pass. Fortunately, he's had this and other defects repaired—and so can you. We can restore teeth as good as new with composite resin bonding, veneers or crowns.
This superstar couple, known for their advocacy of all things healthy, would also tell you a beautiful smile is a healthy one. You can help maintain your smile's attractiveness with daily brushing and flossing to lower the risk of staining and dental disease, regular dental visits, and "tooth-friendly" eating habits.
And when your teeth need a little extra TLC, see us for a full evaluation. You may not be in the spotlight like this celebrity couple, but you can still have a beautiful smile just like theirs.
If you would like more information on ways to enhance your smile, please contact us or schedule a consultation.
By Browell & Murphy
January 05, 2021

Over the years, dentists have become quite proficient in treating even the most severe periodontal (gum) disease. Many of these positive outcomes are achieved through manual effort using simple hand instruments called scalars and conventional periodontal surgery.
But that might be changing soon: Periodontists (specialists who care for the gums and other supporting dental structures) are starting to use a different kind of tool for gum disease treatment—surgical lasers.
Although lasers are more commonplace in other fields of medicine, recent developments hint at a more prominent future role for them in dentistry. One of these developments is a laser procedure called Laser Assisted New Attachment Procedure (LANAP®) that treats deep spaces of infection called periodontal pockets, which develop advanced gum disease.
These pockets form as infected gums gradually detach from a tooth as the supporting bone is lost. This widens the normally narrow gap between the teeth and gums. The ensuing pocket fills with infection that must be removed to adequately treat the gum disease. As the pocket extends down to the root, it's often necessary to perform a surgical procedure through the adjacent gum tissue to fully access it.
But with the LANAP® procedure, the dentist can use a laser to access a deep pocket without opening the gums. Moving from above into the gap between the tooth and gums, the light from the laser has the ability to remove diseased tissue without damaging healthy tissue.
The dentist follows this with ultrasonic equipment and manual scalers to further decontaminate the tooth root surface. The laser is then employed once again to facilitate the formation of a blood clot between the teeth and gums to seal the area with a fibrin clot. Once treated, the dentist will monitor the tooth to ensure maximum bone regeneration and gum reattachment.
Although outcomes are the same for the most part, this laser technique for periodontal pockets may have some advantages over conventional surgery. Studies so far show that LANAP® causes less tissue removal and bleeding, less potential for gum recession and less discomfort experienced by patients.
It's not likely that lasers will fully replace conventional gum disease treatments any time soon. But if the encouraging evidence thus far continues, the laser will one day become as commonplace alongside the other tools used for gum disease treatment.
If you would like more information on treatments for gum disease, please contact us or schedule an appointment for a consultation. You can also learn more about this topic by reading the Dear Doctor magazine article "Treating Gum Disease With Lasers."