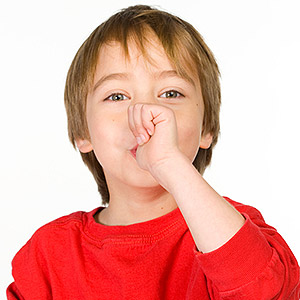 Of the many concerns pediatric healthcare providers hear from parents, thumb-sucking is definitely on the short list. Such a worry isn't totally unwarranted—persistent thumb-sucking could influence poor bite formation.
But if you have an infant or toddler who can't seem to keep their thumb out of their mouth, there's no need to panic—yet. Thumb-sucking is a nearly universal habit among young children, but the vast majority won't suffer any long-term harm from it.
That being said, though, it can become a problem if the habit continues on into late childhood, especially as permanent teeth begin to come in. That's because of the habit's relationship with the transition that occurs in child's swallowing patterns.
Babies initially thrust their tongue forward as they swallow, which helps them maintain a seal on the breast or bottle. This causes the jaws to remain partially open and not completely shut together, what's known as an open bite. Later, when weaning off milk for solid food, the pattern will change as the child begins moving the tongue down and away as they swallow. This in turn allows the jaws to completely shut.
Thumb-sucking often coincides with the initial infant swallowing pattern, and it usually fades about the time the child is moving into the more adult pattern. Persistent thumb-sucking, however, interferes with that process, essentially extending the open bite longer than normal, which in turn creates the conditions for poor bite development. Thumb-sucking can also put undue upward pressure on the front teeth, which could disrupt their alignment.
If thumb-sucking causes these conditions to develop, a child could eventually need extensive orthodontic treatment later in childhood or adolescence to correct their bite problems. The better course, though, is to avoid this by encouraging your child to end their finger-sucking habit, preferably by the age of 3.
It was common in years past to coat a child's thumb with something spicy that although not harmful was definitely not pleasant to taste. Today, most care providers recommend a more positive approach like offering praise or rewards to a child when they avoid sucking their thumb.
It may take time, but persistence and patience can win out. And, the biggest winner in ending thumb-sucking will be the child's long-term oral health.
If you would like more information on the dental effects of thumb-sucking, please contact us or schedule an appointment for a consultation. You can also learn more about this topic by reading the Dear Doctor magazine article "How Thumb Sucking Affects the Bite."